I dropped this note to Daniel Pink (http://www.danpink.com). We met during the week and well, I got a little starstruck. Here Dan is with our new book – Humane, Resourced – it was pretty much thrust into his hands so he did very well to smile.
Just prior to this I had asked to move in with him. It was inappropriate and a slightly knee jerk reaction to meeting one of my favourite authors. It was  quite a busy room in which to ask such a personal question.
If you read the letter you'll get a good sense of what we were trying to achieve with the book and what we actually did achieve with the book.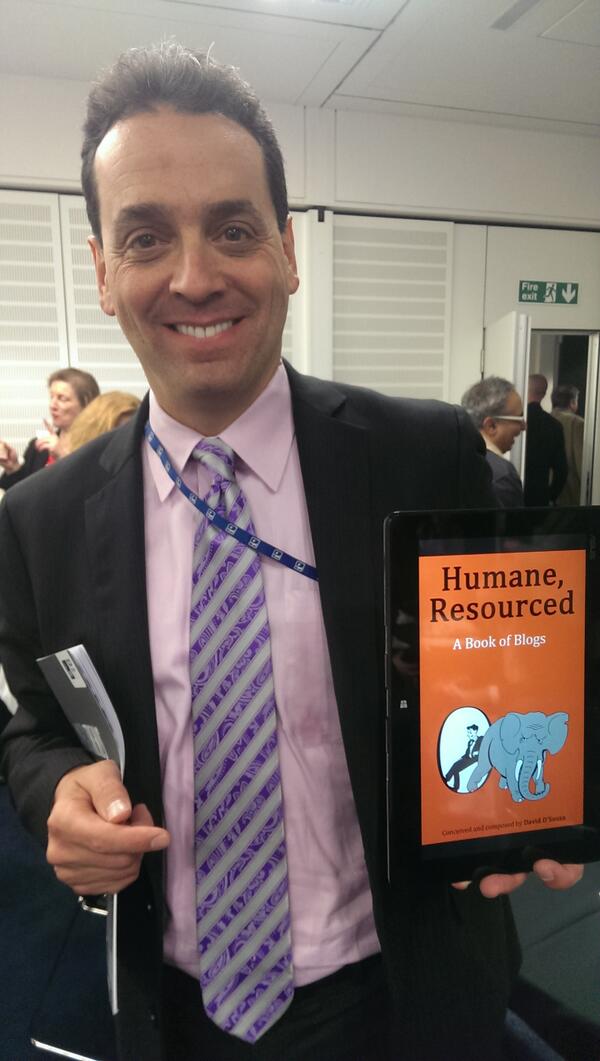 Hi Dan,
First of all, having spoken to my wife I'm afraid I'm going to have to retract the offer to move in with you. As supportive of my dreams as my wife is, she still believes, thankfully, that I have a role to play in my daughter's upbringing. And I am a rubbish cook. I can't pitch, I'm bad at sales, I apologise for what lies beneath.
The short bit
I appreciate you taking the time to be forced into posing with our book on Thursday. As all proceeds go to charity and its success is reflecting positively on all 50 contributors, it has really made a difference.
I'm going to send you a tweet (from @dds180) – if you would retweet it that would be brilliant – as we have no PR machine, the book is completely self published and success relies on advocates like Peter Cheese and the CIPD http://www.cipd.co.uk and the kindness of strangers.
You can stop reading here or keep going to find out what we've done with the book. I'd love you to keep going, because I know you love real life examples of doing things differently.
With no PR machine sitting behind us and a budget of $15 we became, for a brief time the 7th best selling Business book on Kindle in the UK, pushing down more established business books from the likes of Gladwell, Goleman, Sandberg and well… you as well. Sorry about that last part.
We remain the bestselling HR book in the UK and this week – when it has been available free on Amazon – the book has been #2 in the US HR charts too.In short, last week 50 people became able to claim they were bestselling international authors. The first genuine effort to make a book was a tweet on 14th July. We've done it quickly.
The (optional) longer bit
A few months ago I wanted to write a book but didn't have time. I looked at HR blogging on social media and noticed a whole group of people who had great things to say but were time poor.
So I fired out a tweet asking if people would like to contribute to a book of blogs. 48 hours later I had 30 potential contributors from across the globe – US, Canada, New Zealand, Oz, Ireland…
We ended up with 60 asking to join – and 50 of those ended up contributing – no money exchanged hands, only enthusiasm.Of the final authors I have met only about a third. There are another third who I interact with only through social media (I've only been tweeting and blogging for 6 months). The final third I wouldn't know if I passed in the street, but I like them.
The guidance given to contributing authors was this
Write less than a book, more than a paragraph
Nothing offensive
Write about what you are passionate about
We used a site called http://www.pressbooks.com to coordinate the writing (like a community wordpress) and Peter Cheese graciously agreed to write the foreword. The book cover has been designed by one of the contributors (@simonheath1), the charities that money goes to were chosen by contributors, the title was chosen by contributors and the the final version was checked by contributors. I didn't have a clue what I was doing but I learnt how powerful it is to not want to let a community of people down.
A loose community of people with a shared goal got things done faster than most companies can, and without any dedicated resource (although with lots of dedication). The nicest review I have had so far is from a final year HR student, who says the the book helped him understand HR and business better than any of his required reading.
I'd love to add the story to your memory bank, maybe you'll draw on it one day, maybe not – but I think it's cool enough to be in there. I remember the anecdotes you used to illustrate the principles of Drive when I first saw you speak several years ago, and my modest ambition in life now seems to be to become an anecdote.
I'm going to tweet you this as well and if you'd share it that would be great. The book is available to buy through Amazon, I know you are time poor, but it's episodic nature makes it quite good for gaining random (and useful) thoughts. There is even a chapter in there on #goodsales that would be right up your street….Feel free to leave a review
http://www.amazon.com/Humane-Resourced-A-Book-Blogs-ebook/dp/B00GA323TW – US link
http://www.amazon.co.uk/Humane-Resourced-A-Book-Blogs-ebook/dp/B00GA323TW – UK link
Thanks for whatever and any time you gave this. It's appreciated by 50+ people who are all keen to keep hacking away at business until it gets better.
David
Anyway – within a few hours…this happened. All is well in the world