It isn't that hard.
I'm not saying it's easy, but the things we do actually aren't rocket science. Unless you are currently a very involved Business Partner for NASA ( in which case, apologies – but it's hardly brain surgery).
It does seem that s all too often we require the comfort blanket of credibility that is jargon. How can HR become more 'commercial?'  – is it by asking people to 'have a bluesky roundtable, lasered in on improving synergistic dialogue that will improve idea socialisation and then to carpark any issues to take them offline'?
Do we really believe that the leadership teams we work with hear something like that and think 'great idea, team!' – or are we hoping they will be so confused that it will act in a way similar to Latin in a legal document – to distance understanding to the point where most believe they are reliant on an 'expert' to make sense of what is going on.
If we want transparent and inclusive organisations (most people do) then don't make language a barrier make it an 'enabler' – better still, just make it helpful.
So here is my brief list of words that we could probably kill without anybody thinking less of us, feel free to add more
Add value – try just helping. Everyone understands help. 'Am I helping you?' is a powerful question. 'Am I adding value?' is asking for reassurance
Engagement – if you can't define engagement  in a way that doesn't immediately make someone think of a survey – then try another word. Are you scared of people being passionate about working for you and believing in what you do? Does it sound too woolly? Or was that what you wanted in the first place.
Stakeholder management – you have customers, shareholders and colleagues.  Which ones does this impact? Go make them happy. When I think of stakeholders I think of this drawing by the fantastically talented Simon Heath (@Simonheath1)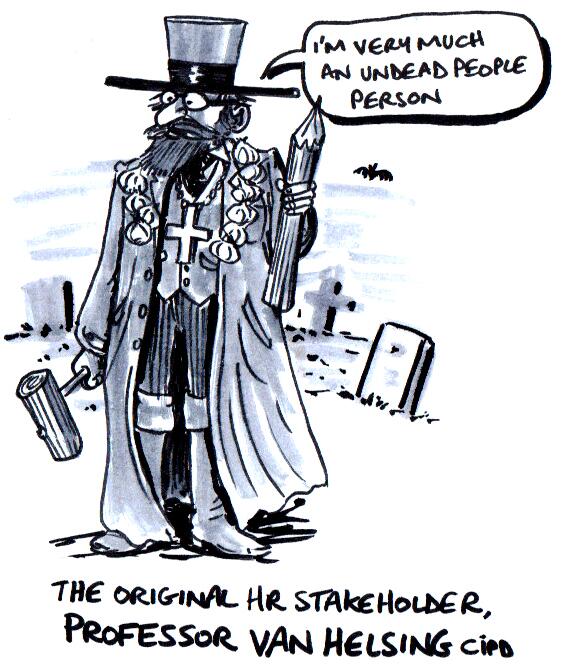 Contracting – try just agreeing. You are agreeing something with a person, don't turn them into a transaction – you both lose out.
Big data – you probably don't know what this means. Have a look http://en.wikipedia.org/wiki/Big_data Suprised? Stop using it because it is trendy – try doing some basic analysis of your data
Performance management – when you say you are 'performance managing' someone do you mean 'I'm finally accepting I might have to sack them so I've started some documentation'? Thought so. What were you doing before? When they are performing you weren't managing their performance? That's a bit embarrassing – you only appear to have a role in failure. Awkward
Employee attrition – you made a bad hire or someone found somewhere better to work. It is unlikely that someone 'attrited' – it just feels nicer to say it because when we use technical language it loses some of the immediacy. 'What percentage of our people didn't want to work here anymore last year?' is actually a far scarier and useful question than 'what is our annualised attrition rate YTD?'. People leave, they don't attrite. At the point you apologise for 'having to attrite the party early' it will be acceptable.
Managing expectations effectively – just let them know why you are going to miss the target. They are a grown up, you are – have a chat instead of attempting to manage them
Generation X/Y/Z – imagine how you would feel if you went out for a meal and were allocated your food based on age… How annoyed would you be? Or if the cinema automatically ushered you away from the movie you wanted to watch – because you were 6 months older than their target demographic. Doesn't feel like a great way to run a business does it? So don't do it internally, learn about your people and be flexible in how you treat them – not because generations are different, but because people are. Kierkegaard wrote 'if you label me you negate me' . If even his generation understood that….
Significant culture change –this appears to be interchangeable with 'transformation programme' which in turn seems to involve 'significant structural change' which in turn seems to require HR professionals who are 'experienced in consultation' which in turn seems to involve people 'familiar with large scale redundancy programmes and TUPE'.  They aren't interchangeable terms, I appreciate the interdependency, but changing a culture does not primarily involve needing to be able to sack people with minimal risk
So, that is my list of shame, please feel free to add more in the comments or on Twitter.
Dave